Many of you reading this are probably familiar with Old South Cornbread Company based out of El Dorado, AR as the producers of Big Daddy's Hot Water Cornbread. We at Old Hickory have been eating this cornbread at company gatherings and family cookouts since Old South Cornbread initially started in the early 2000s. This stuff is AMAZING and goes great as a side item to any meal! It is sold as a frozen cornbread local grocery stores and food vendors.
Now some of you may be asking, "What is Big Daddy's Hot water Cornbread, and why is Old Hickory telling us about it?" First, here is a statement on the product's information and history straight from the founders at Old South Cornbread:
"Big Daddy's Hot Water Cornbread is located in El Dorado, Arkansas. It was started several years ago by two old boys who apparently had too much time on their hands. They spent a lot of time messing up their kitchens and irritating friends and family into trying our latest recipe. Soon, they all got caller id, peepholes in their doors, and guard dogs to keep us away. Undeterred, we persevered until we got it right. All of our cornbread is handmade in El Dorado, Arkansas and is distributed across Arkansas and surrounding states. It is available through institutional and retail sales in several different sizes."
We at Old Hickory can tell you that Old South Cornbread was definitely started by a couple of "good old boys" who took a lot of time and care to develop a wonderful product. The owners of Old South recently decided that retirement comes for every "old boy" and began to look for someone who would carry on their legacy of producing the best dang cornbread you can buy!
Old South Cornbread is a small food manufacturer in El Dorado and so it was only natural that another local food manufacturer in South Arkansas, with roots in El Dorado, continue their tradition of producing great tasting cornbread. That's right, Old Hickory is welcoming Big Daddy's Hot Water Cornbread into our family of products!!!
So be on the lookout for more information from us about this wonderful item in the near future!!
And for you die-hard fans of Big Daddy's Hot Water Cornbread, don't worry!! We are not changing a single thing about the way the cornbread is made! The same employees at Old South Cornbread will continue to produce this wonderful product by hand, and the company's founders have agreed to stay on in advisory roles to make sure the quality and taste of this product remains constant!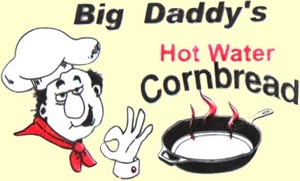 Also, this cornbread is really good dipped in Old Hickory's Barbecue Sauce and Cooking Sauce!!! Just saying! ;)